13.6ft cargo length fireworks transporter truck
Product Description
Fireworks transporter truck
,

also known as explosion-proof cars, explosives transport vehicles, detonator transport vehicles, civil explosive equipment transport vehicles, civilian explosive cars, fireworks and firecrackers. It is based on the relevant national ministries and commissions on the blasting equipment transport specifications and user requirements and development and production, product line with the National Defense Technology and Industry Commission, "Blasting Equipment Transporter Safety Technical Conditions" requirements. The car body adopts cold rolling steel plate, with flame-retardant foam in the middle, inner plywood, interior aluminum alloy, and is made of four layers of international advanced technology. It is beautiful and durable, with high strength of the box, good impact resistance, fire retardant, and ventilation prevention. Rain, anti-static spark, standard smoke alarm and burglar alarm function. Full range of models standard: front disc brake, ABS, speed limit device, optional driving recorder.
[Main technical parameters ]

Product name

fireworks transporter

Product brand

/

Total mass

7350

Tank volume (m3)

 

Rated mass

3000

Overall sizes

5995×2095×2900

Cube weight

4155

Cargo sizes

4150×1960×1800

Approach / departure angle

15/16

Front suspension/rear suspension

1115/1580

Number of axes

2

Wheelbase(mm)

3300

Axles load(Kg)

2940/4410

Max speed(Km/h)

80

Comments

The top of the car body is closed and cannot be opened: The height of the side/rear protection device is 450mm. The name of the transport item: Explosives, detonators, fireworks, etc. Item number: 1.1B, 1.1D, 1.1G, 1.2G, 1.3G, 1.4 G, etc.; Installation of a tachograph with satellite positioning; equipped with a speed limiter, with a maximum speed of 80km/h. Use only the front disc brake and chassis with ABS. Radial tires only. Use only chassis with front exhaust pipe. Only 4B28ATCI, CY4102-CE4D, D28D11-4DA, YC4FA115-40, YN38CRD2, and ZD30D13-4N engines were used; the corresponding fuel consumption values were 17.80, 17.94, 18.04, 17.82, 18.13, and 17.89, respectively. With the optional chassis cab. Optional door does not open the body.

[Chassis technical parameters]

Chassis model

DFA1070SJ20D5

Chassis name

Truck Chassis (Class 2)

Overall sizes (mm)

5895×1950×2190

Number of tires

6

Approach / departure angle (°)

27/22

Tire specifications

7.50-16 14PR,7.50R16 

Number of leaf springs

6/6+5,8/9+5

Front track(mm)

1586

Fuel type

diesel

Rear track(mm)

1530

Chassis emission standards

EURO V

Engine model

Engine manufacturer

Displacement(ml)

Power(kw)

4B28ATCI

D28D11-4DA

Changchai Company Limited

Dongfeng Light Engine Co., Ltd.

2834

2771

80

85
Product  details:
We are professional manufacturer for many kind of special trucks,such as
dump truck,fuel tanker truck ,garbage truck,refrigerator truck,truck with
 crane,fire fighting truck,mixer truck etc. 
company show
Packaging & Shipping
Waxed before shipping , shipped by RORO or bulk ship 
Trade Shows
Product  advantage:
1.Factory export department directly sale
 
2, Export experience more than 12 years
 
3.Cheap / competitive price. good price high quanlity ,you get more than your paid
 
4.With CCC,ISO9001
 
5. The heart of the service, rational design and simple to handle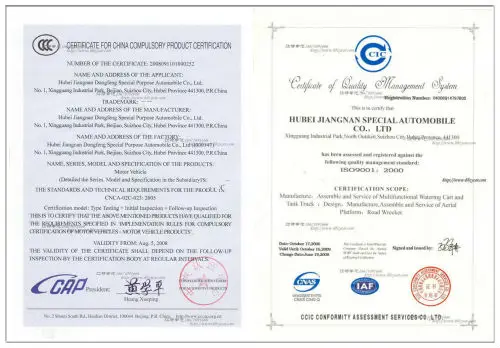 Pls feel free to contact me for more details:
Hubei jiangnan special automobile co.,LTD
Sales Director:Janet Zhang
Tel:0086-155 8888 8989
SKYPE: qosuozhang
Email: jndfa@hotmail.com