JDFtruck.com, Hubei Jiangnan Dongfeng Special Automobile Co.,Ltd reorganization by merger and acquisition in 2007 ,it is the special vehicles manufacturer base of Dongfeng Group which was established in 1969 and it is the largest government mainstay group in China and SINOTRUCK,National Development and Reform Commission designated manufacturer.
Its headquarter now located in Hubei Province, with its major production workshops in Shiyan,Xiangyang, Suizhou,Wuhan and Shenyang. Include 24 branch companies,36 Main workshops around China .DongFeng Group has a wide coverage of business scope, engaged in the manufacture, sales and R&D of whole serial special trucks,commercial vehicles,passenger vehicles,auto parts and components, construction machinery,vehicle manufacturing equipments and auto related business.
Durning Auguest 7 ,2015- April 4,2016 we have export 469 sets fire trucks to Philippine Government BFP(Bureau of Fire Protection), Aquino, former president of Philippines, speech at the fire trucks turn over ceremony.
JDF Truck, JDF, Jiangnan Truck, Hubei Jiangnan, Jiangnan Dongfeng
Why Choose JDF truck
1.Fire truck Production and sales Top 1 in China.
2.Aerial Truck Production and sales Top 2 in China.
3.Recovery Truck Production and sales Top 2 in China.
4.Road Sweeper Production and sales Top 4 in China.
7×24 Excellent service system ,Lifetime Warranty Maintenance.
We export 469 sets fire trucks to Philippine government during 2015-2016
Philippine President  Aquino at our company fire trucks turnover ceremony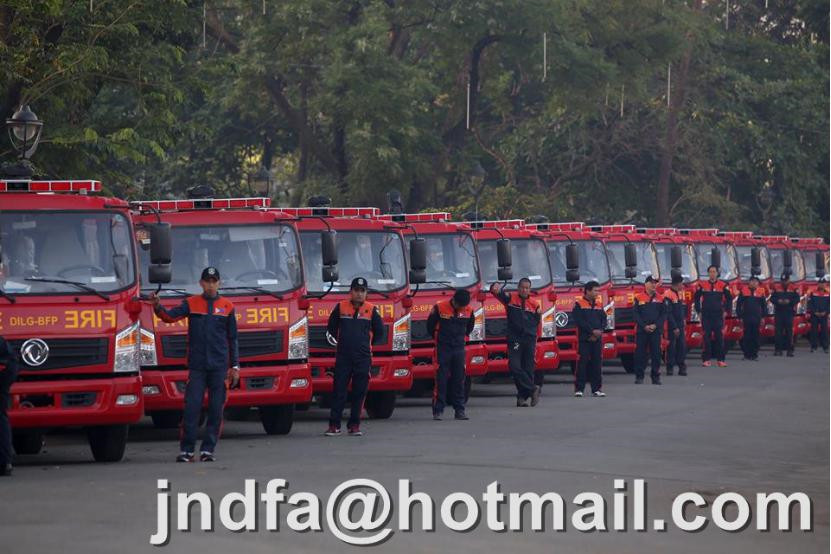 JDF Truck, JDF, Jiangnan Truck, Hubei Jiangnan, Jiangnan Dongfeng
JDF TRUCK
HUBEI JIANGNAN DONGFENG SPECIAL AUTOMOBILE CO.,LTD
Hot line: 0086-155 8888 8989
Email:jndfa@hotmail.com
janet@jdftruck.com
Skype:qosuozhang
WhatsApp:0086-155 8888 8989
Wechat:18672730321
QQ:262869394
Web:www.jndfa.com
www.JDFtruck.com